Birthday Celebration
Eve of my Birthday

Rein and I shopped at Sunstreet and we waited for hubby to arrive. I have no idea that he's going to buy me a gift, as I've said to him that we should allot the money for Rein's 1st bday, but he insisted since I'm turning 30 and it was kind of a reward for me. So, he bought the bag (It was nice and big, better so I could place my baby stuff) and a wallet.

After that, we had dinner at Koboshi Ramen House, our favorite place for Ramen. It was so delicious! Didn't have a nice spot since the place was kinda small. We came home right after dinner and hubby was singing a birthday song for me, he was teaching Rein to greet me.

12 midnight struck, they greeted me and we celebrated it with a blast (literally!). It was a lovely night for us as we slept past 2 am. I got a missed call from Yen (Albert's wifey) but she thought I'm sleeping already and didn't want to disturb us.

On the day of my Birthday

From morning to mid afternoon, I was playing with Rein and preparing for our mother-daughter treat, since hubby will be available after office hours. I continued to receive text and email messages from my family and friends. I was so happy that they remembered my birthday.

We left our house past 3pm and went straight to K!T (mall). It's my tradition to buy a gift for Baby Rein every year as she is the most priceless gift I got. It was her bonding time again with me and the other kids who were there.

Around 630 pm. We took the train to Roppongi. I was a bit disoriented on our way as I took the wrong exit at Akihabara. But then again, I was able to find the Tokyo Metro (Subway) off we went to Roppongi to meet hubby.

We had a spooky dinner at Tony Romas, the place was decorated with Halloween stuff. We were seated beside two groups of American tourists who were so amused with Rein. Rein opened my gift and she played with it.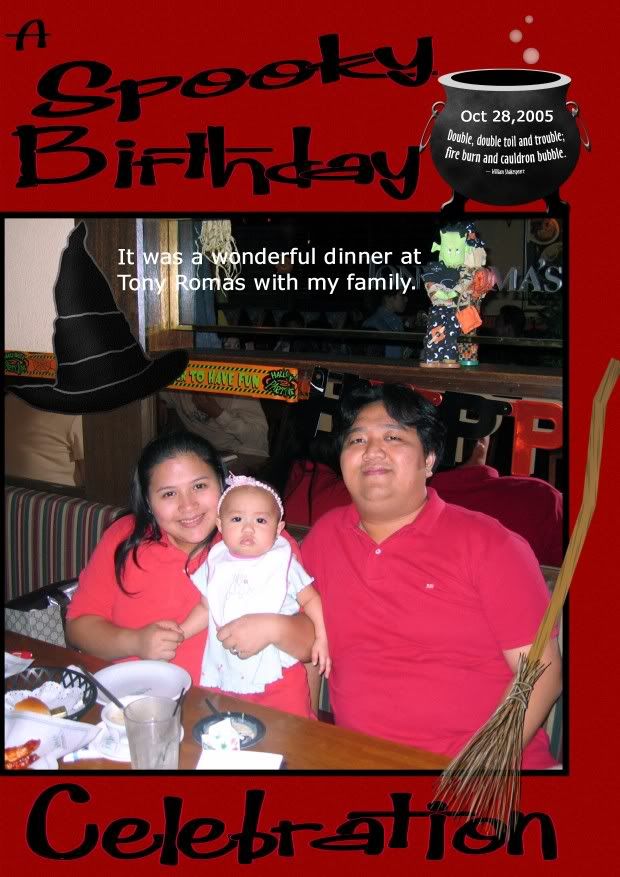 We ordered our favorite food. Potato soup, cheese sticks, buffalo wings, fries and of course, the famous original baby back ribs. Hubby was a bit disappointed with the servings as he compared it to Bangkok and the U.S.

We left before 10 pm. Rein got a red balloon which I put on her wrist. I didn't realize that I left Rein's new toy until we got home. Hubby called the resto and luckily it was there and he'll pick it up on Monday.